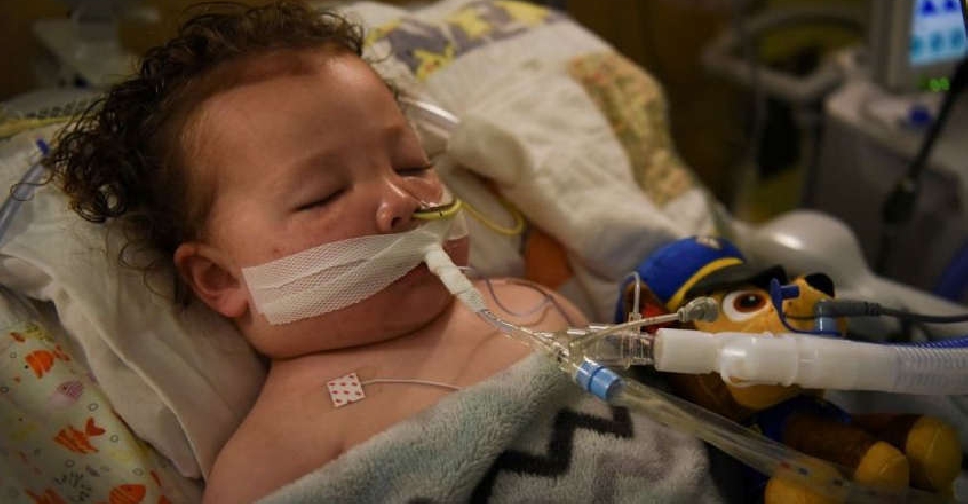 Twitter/Reuters
Two-year-old Adrian James is one of more than 840,000 children under the age of four to contract COVID-19 in the United States since the beginning of the pandemic.
His health, however, deteriorated quite quickly, forcing him to be hospitalised.
His mother Tiffany Jackson recalls the emotional drive to a hospital in their town of Mount Vernon, before her son was airlifted to Cardinal Glennon Children's Hospital in St. Louis.
"I didn't know if he was going to make it or not," Jackson said. "I was very emotional and just very upset."
By late Tuesday night, he was intubated and heavily sedated, wrapped in his baby blanket with his favorite Paw Patrol stuffed animal at hand.
Over the past couple of days, his lungs have been able to do more of the work of breathing, and it is possible that he may be removed from the ventilator soon.
While hospitalisations like Adrian's remain rare: less than 1 per cent of children with reported cases of COVID-19 are hospitalised and children account for 2.5 per cent of all COVID-19 related hospitalisations, according to the American Academy of Pediatrics.
The United States last week crossed the milestone of 700,000 COVID deaths since the pandemic started, including 520 children. US health regulators will meet later this month to consider approving the Pfizer/BioNTech vaccine for ages 5-11, followed later this year or early next year with a decision for those under 5.
Transmission of the virus remains high in every state except California and Connecticut, CDC data show.