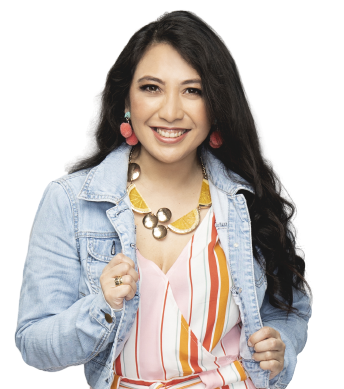 Nicknamed the "Madam" by her fellow presenters, Louie da Costa is anything but one.
The Content Director of Tag 91.1 is still, very much, a radio jock at heart - goofy, fun loving, casual, and full of warmth.
Catch the hungry, mood-swinging, wannabe philanthropist/therapist/environmentalist, Louie da Costa, every weekday on TAG Break Na from 2PM – 4PM
Get to know Louie
What was your first job in UAE?
Radio Presenter for our sister station (hint: rhymes with verge in)
Favourite Filipino movie?
I confess, I haven't watched a lot but from those I've seen, I'd pick Dekada '70 and Starting Over Again
Favourite food that you discovered in UAE?
Most naman dito ko nadiscover, since I grew up here. But something sikat dito that I love would be Butter Chicken with Papadum or Lamb Chops with garlic sauce
You can only eat one for the rest of your life, sinigang or adobo?
Adobo! Flexible kasi. You can eat it hot or even cold; you can shred it and make adobo & quezo panini; you can cook any kind of meat or vegetable as adobo... the list goes on.
Where do you want to go for your dream vacation?
Pwede bang parang slam book answer – TMTM! (too many to mention). But a trip to Japan with the whole fam is in the works.
What do you love most about working in radio?
Other than all the fun? I love that we can touch people's lives. Our words, our promotions, our content can make a difference in someone's day or even more than that.
What is your happy song?
Please don't ask someone who works in radio to choose just one song. GRABENG HIRAP! *insert happy sweat emoji lol* But my list includes Faith – George Michael, Still Into You – Paramore, Valerie – Amy Winehouse, Ligaya – Eheads,
What is your motto in life?
Time is gold. hahahaha! Diba yun yung laging answer nung High School? Haha! Seriously though, I get through life thinking "everybody has their reasons, everybody has their ways… to each their own."
What is love?
It really irks me when people use the words "I love you" so loosely. I think love is more than just some intense affection. It's a deep and almost selfless emotion that's put into action. It's a promise. Ang hirap i-define eh. Sabi nga in something I read, "love is beyond what man can define for love is immortal, a gift of heaven's design."
What is the essence of a radio presenter?
To be confidently beautiful with a heart. Hahah! I better get a crown after this, ha! I think radio presenting isn't confined to having a great speaking voice. It's about having a personality and being personable. It's having a passion inside you that drives you to make genuine human connections through information, conversations, entertainment and even music.
HER SHOW