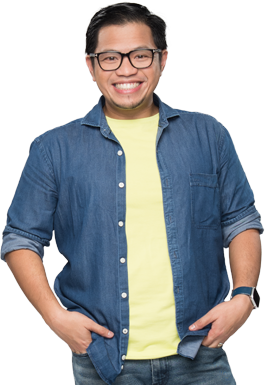 Andy Sal is the newest radio rookie in town - even though some may say he doesn't look the part.
Armed with plenty of spunk and relentless enthusiasm, Andy is determined to spice up your weekend evenings by counting down Tag 91.1's top 20 songs of the week with Tag 20-20!
Apart from being a radio jock newbie, he is also a budding shawarma hunter, a vacation leave warrior, and an amateur photographer - for the 'gram, of course. When not on-air, you might also find him exploring and taking photos of hidden gems in the UAE's off-the-beaten paths.
Count down your favorites with Andy Sal every weekend on Tag 20-20 every Saturday and Sunday from 5PM – 8PM on TAG Weekend Na.
GET TO KNOW ANDY
Favourite Filipino movie?
Mga pelikulang Marilou Diaz-Abaya X Cesar Montano gaya ng Jose Rizal! Tsaka Magnifico kasi nakakaubos ng luha. #OldSchool
Who is your Pinoy idol?
Dead, Andres Bonifacio. Living, Angel Locsin.
Favourite food that you discovered in UAE?
Afghan Pulao! Kanin na may pasas na may malaking tipak ng karne sa ibabaw at marami pang iba, I thank you.
You can only eat one for the rest of your life, sinigang or adobo?
Sinigang fo' life! Basta yung sampaloc. Yung bayabas version kasi mediyo malapit sa amoy ko kaya ilag ako.
Where do you want to go for your dream vacation?
If not in the mountains of Georgia, then in the waters of Tubbataha. Bongga! Dream nga e.
What is your happy song?
Give me anything from Manila Sounds of the 70s and 80s anyday, plus a healthy dose of Ebe Dancel and Gloc-9.
What is your secret talent?
My hands are magnetic. Pag nahawakan ko na yung mic, wala nang ibang makakapag videoke.
What is your motto in life?
Don't judge a book, cover it!
What is love?
Love is a choice. Dahil wala ng mas lalambing sa mga katagang, "i choose you." Pokemon lang!?
What is the essence of a radio presenter?
Being present at just the right place, at the right time, and at the exact amount so that you can engage effectively with the audience without disrupting their listening experience.
HIS SHOW