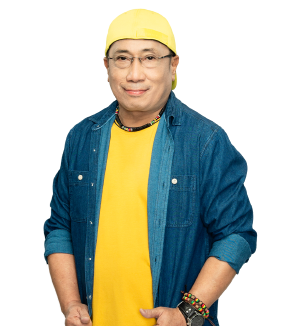 A proud "Bisdak" (a street term for people from Visayan region of the Philippines), Bluebird was never one to hide his Cebuano roots. His strong accent matched with his contagious laugh and endearingly funny nature makes him one of the most distinctive and loved personalities in the UAE's Filipino community.
Fondly called the "Daddy on the Radio," not just because he's "matured" (the word 'old' does not exist in his vocabulary) but because he's like a dad you could run to for advice.
Always dressed to impress but somehow managing to stay simple, catch this CPA – and-engineer-turned-RJ cracking jokes with Keri every weekday from 5AM - 10AM on TAG Gising Na.
Get to know Bluebird
What was your first job in UAE?
Junior Presenter – Filipino Rhythm Dubai Eye 103.8
Favourite Filipino movie?
FPJ movies
Who is your Pinoy idol?
FPJ & Robin Padilla
Where do you want to go for your dream vacation?
Iceland
What do you love most about working in radio?
It's fun!
What is your happy song?
The Heat Is On
What is your motto in life?
Don't panic.
What is your secret talent?
Dancing
What is love?
Caring & Giving
What is the essence of a radio presenter?
Being cheerful, being innovative , for me is the true essence of a radio presenter.
HIS SHOWS