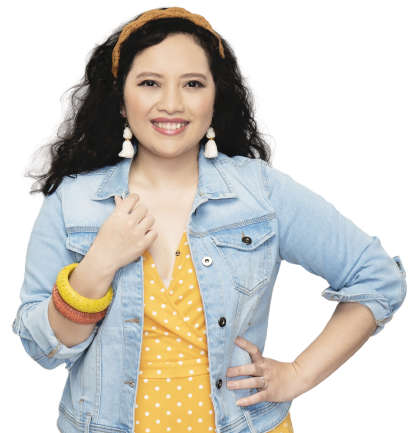 The seemingly shy little girl of Tag 91.1, Pepper Reu is anything but silent.
Ever the talker, Pepper Reu, loves to travel to find someone new to chat with, although she'd claim it's "for the culture."
But even if she can keep a conversation going from sunrise to sundown, she also loves to listen and holds a lot of people's secrets in her big head of curly hair.
Catch Pepper Reu all week on TAG Halina every weekday from 10AM - 2PM then rock out with her on Bandang Hapon every Saturday and Sunday from 2PM – 5PM on TAG Weekend Na.
Get to know Pepper Reu
What was your first job in UAE?
PR Account Executive for a 360 marketing and advertising agency
Favourite Filipino movie?
Ooohhhhh... this is hard; I have loads... Pedro Penduko? Magic Kingdom? TGIF? Jolina Magdangal movies for sure!
Favourite food that you discovered in UAE?
Real shawarma? Buttered Chicken. Chicken shishtawook! Buttered nan. nagutom ako bigla...
Where do you want to go for your dream vacation?
Around the world? 🤣 I can go from icy Iceland to beachy Maldives or dreamy Madagascar to see the Boabab trees...or be historical and see sights found in the Bible
What do you love most about working in radio?
I get to be with somewhat like-minded people... being in the know. I love the musical and production side of things. It excites me.
What is your happy song?
Praise songs usually works like Not Today by Hillsong and Everything by TobyMac. To go to for a pick-me-upper would be Britney Spears or Beyonce throwback songs.
What is your motto in life?
I can do all things through Him who gives me strength and/or "there is a right time for everything"
What is your secret talent?
I can dance? 🤣
What is love?
Perfect love expels all fears
What is the essence of a radio presenter?
Be with the listener to their dullest and mundane moments of traffic or of their day. Hopefully, encourage, entertain, inspire, or even just bring a bit of laughter to their day.
HER SHOWS