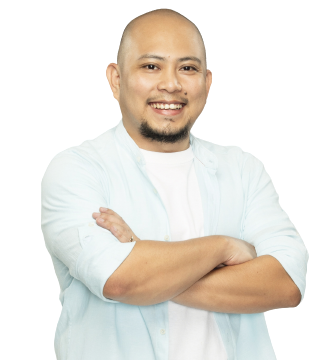 Don't let the glasses and very professional demeanor fool you, Alfred Ryce is what we Pinoys call "nasa loob ang kulo" (literally translated to: he's boiling inside), and is one of the animated jokers of the group… although be warned, he's mostly armed with "tito jokes" (dad jokes).
Prior to his corporate life, Alfred had a brief radio stint in his province of Albay, Philippines. It was cut short because he was called by the hustle and bustle of Metro Manila living before eventually moving to the UAE.
If he isn't working out, feeding his tummy or feeding his mind, you can catch Alfred Ryce, on Pinoy Songhits every Saturday and Sunday from 11AM – 2PM on TAG Weekend Na!
Get to know Alfred Ryce
What was your first job in UAE?
Taga-bola sa mga clients sa isang digital marketing agency
Who is your Pinoy idol?
Tatay ko *cue emotional music*
Favourite food that you discovered in UAE?
Kunafa ng Feras! Dabest!
You can only eat one for the rest of your life, sinigang or adobo?
Adobo por layp! Dami kasing versions ang adobo kaya di nakakasawa - #cheatunlocked
What do you love most about working in radio?
Gusto ko yung may freedom to air my thoughts without limitation (char lang) and having good, quality sometimes difficult conversations on topics.
What is your happy song?
Better Days by Franco
What is your motto in life?
Love all, trust a few, do wrong to no one.
What is your secret talent?
Kaya kong pagalawin na parang alon ang tiyan ko. Pasok na ba to sa secret talent? Haha!
What is love?
Love is when you can fart freely around someone hahaha!
What is the essence of a radio presenter?
To provide information, entertainment and companionship to all listeners… boom panot! I win! Hahaha!
HIS SHOW