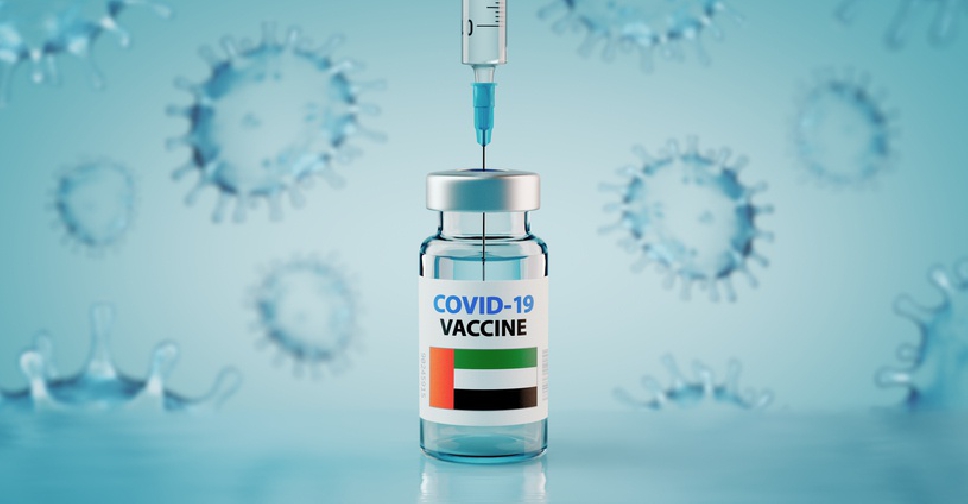 Representational Image/ iStock
The UAE Government has approved the administration of three COVID-19 vaccines in the country.
The Sinopharm CNBG COVID-19 vaccine, the Pfizer-BioNTech vaccine and the AstraZeneca vaccine are available at various medical centers across the emirates.

Visitors to the COVID-19 vaccination centres are required to register for an appointment through the SEHA or DHA app, or by calling 800 342.
On the day of their appointment they undergo a vital checkup, which includes blood pressure, height, weight, and temperature checks.

This is followed by an assessment to confirm their eligibility where they are asked to sign a consent form.

The first dose is administered once all the checks are completed. The second dose is given three to four weeks after the first jab.
Individuals who've tested positive for COVID-19 can check with their healthcare provider before taking the vaccine.

Speaking to ARN News, a senior UAE official said some people do not have to wait for 3 months as commonly thought.

Here's the complete list of healthcare centers providing the COVID-19 vaccine

ABU DHABI
Abu Dhabi City
1 Al Bahia Healthcare Center
2 Baniyas Healthcare Center
3 Al Bateen Healthcare Center
4 Al Falah Healthcare Center
5 Madinat Khalifa Healthcare Center
6 Al Khatim Healthcare Center
7 Madinat Mohamed Bin Zayed Healthcare Center
8 Al Maqtaa Healthcare Center
9 Al Mushrif Children's Specialty Center
10 Al Samha Healthcare Center
11 Al Zafaranah Diagnostic & Screening Center
12 Disease Prevention & Screening Centers - Musaffah
13 Disease Prevention & Screening Centers - Abu Dhabi
14 SEHA COVID-19 Vaccination Center - Abu Dhabi Cruise Terminal
15 Al Mafraq Field Hospital
16 Burjeel Hospital LLC
17 Burjeel Medical Center - Shamkha
18 Burjeel Medical Center - Shahama
19 Burjeel Medical Center - Al Zeina
20 Burjeel Medical Center - Yas Mall
21 Burjeel MHPC Marina Medical Center
22 Burjeel Day Surgery Centre
23 Medeor 24x7 Hospital
24 LLH Hospital
25 Lifecare Hospital - Musaffah
26 LLH Hospital - Musaffah
27 Lifecare Hospital - Baniyas
29 Burjeel Medical City
29 Mediclinic AL Noor Hospital
30 Mediclinic Airport Road
31 NMC Specialty Hospital - Abu Dhabi
32 NMC Royal Hospital - Khalifa City
33 Bareen International Hospital
34 Capital Health Screening Center Al Jazeera Sports Club Branch
35 Healthpoint Hospital Abu Dhabi
36 Imperial College London Diabetes Center – Al Khaleej Al Arabi Branch
37 Imperial College London Diabetes Center – Zayed Sports City Branch
38 Amana Healthcare Rehabilitation Center located at Healthpoint
39 HealthPlus Diabetes & Endocrinology Center, Al Bateen St.
40 HealthPlus Family Health Center, Al Forsan Village, Khalifa City

41 Abu Dhabi AHS

Al Ain
1 Al Hayer Healthcare Center
2 Al Hili Healthcare Center
3 Al Jahili Healthcare Center
4 Mezyad Healthcare Center
5 Al Muwaiji Healthcare Center
6 Neima Healthcare Center
7 Oud Al Touba Diagnostic & Screening Center (only for patients with Thiqa Insurance)
8 Al Quaa Healthcare Center
9 Al Shwaib Healthcare Center
10 Sweihan Healthcare Center
11 Al Towayya Children's Specialty Center
12 Al Yahar Healthcare Center
13 Remah Healthcare Center
14 Disease Prevention & Screening Centers - Al Ain
15 Al Khazna Healthcare Center
16 SEHA COVID-19 Vaccination Center - Al Ain Convention Centre
17 Tawam Hospital COVID-19 Vaccination Center
18 Sinayat Al Ain COVID-19 Vaccination Center
19 Laser Screening (DPI) Center - Al Hili
20 Burjeel Royal Hospital LLC
21 Medeor 24x7 International Hospital
22 Mediclinic Al Jowhara Hospital
23 Mediclinic Al Ain Hospital
24 Mediclinic Al Yahar
25 NMC Specialty Hospital - Al Ain
26 Imperial College London Diabetes Center – Al Ain Branch
27 Capital Health Screening Center Al Ain Branch
28 Amana Healthcare Medical and Rehabilitation Hospital - Al Ain Branch

29. Al Ain AHS
Al Dhafra Region
1 Ghyathi Hospital
2 Liwa Hospital
3 Mirfa Hospital
4 Silla Hospital
5 Al Dhafra Family Medicine Center (DFMC)
6 Delma Hospital
7 Abu Al Abyad Clinic
8 Sir Bani Yas Clinic
9 Burjeel Oasis Medical Centre
10 Mediclinic Madinat Zayed
The following majalises are also administering the COVID-19 Vaccine:
1 Al Bateen Majlis - Abu Dhabi
2 Al Manhal Majlis - Abu Dhabi
3 Al Mushref Majlis - Abu Dhabi
4 Al Wathba Majlis - Abu Dhabi
5 Rabdan Majlis - Abu Dhabi
6 Al Wathba South Majlis - Abu Dhabi
7 The First Emirati Astronaut Majlis - Abu Dhabi
8 Mohamed Khalaf Majlis - Abu Dhabi
9 Falaj Hazaa Majlis - Al Ain
10 Al Sarooj Majlis - Al Ain
11 Alkhabisi Majlis - Al Ain
12 Um Ghafa Majlis - Al Ain
13 Suwaihan Majlis - Al Ain
14 Al Rhowdha Majlis - Al Ain
15 Zakher Majlis - Al Ain
16 Manazef Majlis - Al Ain
17 Al Dhaher Majlis - Al Ain
18 Al Markhaniya Majlis - Al Ain
19 Al Wiqan Majlis - Al Ain
20 Al Taweyya Majlis - Al Ain
21 Al Reef Majlis - Al Ain
22 Al Mas'oudi Majlis - Al Ain
23 Madinat Zayed Majlis - Al Dhafra
24 Delma Majlis - Al Dhafra
25 Mohammed Al Falahi Al Yasi Majlis - Al Dhafra
26 Silla Majlis - Al Dhafra
27 Liwa Majlis - Al Dhafra
28 Mubarak bin Qarran Majlis
DUBAI

1 Rashid Hospital
2 Dubai Hospital
3 Latifa Hospital
4 Hatta Hospital
5 Uptown Mirdiff Medical Fitness Centre
6 Mediclinic Hospital Network (13 locations) and three mobile units
7 Emirates Specialty Hospital (22 locations)
8 Burjeel Network
9 VPS Network (two locations)
10 NMC Hospitals Network (nine locations)
11 Al Mizhar Health Centre
12 Zabeel Health Centre
13 Al Barsha Health Centre
14 Nadd Al Hamar Health Centre
15 Al Safa Health Centre
16 Al Badaa Health Centre
17 Nad Al Sheba Health Centre
18 Al Mankhool Health Centre
19 Al Twar Health Centre
20 Al Lisaili Health Centre
21 Union Health Centres
22 Hor Al Anz Health Centre
23 Al Qusais Health Centre
24 One Central - Dubai World Trade Centre
25 Dubai Parks & Resorts Field Hospital
26 Screening centres at Al Khawaneej and Port Rashid

SHARJAH
Sharjah City
1 Mughaider Suburb Council
2 West Tent
3 Al Saja'a Mall
4 Riffa Health Center
5 Khalidiya Health Center
6 Al-Riqa Health Center
7 Sharjah Health Cente
8 Al Hamriya Health Center
9 Wasit Health Center
10 Al Bait Metwahhed
11 Family Health Promotion Center

12 Al Zahra Hospital
13 Zulekha Hospital
14 Central Private Hospital
15 Saudi German Hospital
16 Burjeel Specialty Hospital
17 Prime Specialist Medical Center
18 Prime Medical Center Al Nahda
19 Prime Medical Center Al Qassimiya
20 Thumbay University
21 Medcare Hospital
22 Arab Doctors Specialist Center

Central Region

23 Al Madam Health Center
24 Maliha Health Center
25 Nizwa Health Center
26 Al Batayeh Health Center
27 Al-Thameed Health Center
28 Al Dhaid Health Center
Eastern Region
29 Al Lulueyah Health Centre
30 Khorfakkan Health Center
31 Dibba Al-Hisn Health Center
32 Kalba Health Center
33 Nahwa Health Center
34 Wadi Hilo Health Center
35 Hayawa Suburb Council
36 Dibba Al-Hisn City Council
37 University City Hall - Kalba

AJMAN

1 Sheikh Khalifa Hall
2 Al Hamidiyah Health Center
3 Mushairef Health Center
4 Manama Health Center
5 Al-Muzaira'a Health Center
6 Ajman Society for Social and Cultural Development (Affiliated under Mushairef Health Center)
7 Indian Society Hall (Affiliated to Al Hamidiyah Industrial Health Center)
8 Amina Hospital
9 Saudi German Hospital
10 Prime Medical Center IJM
11 Thumbay Hospital
UMM AL QUWAIN

1 Al Bait Metwahhed
2 Falaj Al Mualla Health Center
3 Al Raafa Health Center
4 Al Khazzan Health Center

RAS AL KHAIMAH

1 RAK Exhibition Center
2 Al Jazeera Health Center
3 Al Mareed Health Center
4 Al Munaie Health Center
5 Shawka Health Center
6 Kadra Health Center
7 Wadi Asfni Center
8 Al Hamraniyah
9 Saif Bin Ali Health Center
10 Al-Rams Health Center
11 Al-Nakheel Health Center
12 Digdagga Health Center
13 Shamal Health Center
14 Elbait Metwahid Hall-Adhen
15 RAK Sport Hall
16 RAK Hospital

FUJAIRAH

1 Madinah Health Center
2 Mureshid Center Health
3 Bidya Health Center
4 Murbeh Health Center
5 Quraya Health Center
6 Hala Health Center
7 Tawyeen Health Center
8 Dhadna Health Center
9 Siji Health Center
10 Saider Al Wadi Health Center
11 Quidfa Health Center
12 Kholaybiyah Health Center
13 School Health Center
14 Sheikh Khalifa Hall
15 Dibba Exhibition Center
16 Al Bait Metwahhed
17 Thumbay Hospital
18 Al Sharq Hospital
(Data compiled from the Ministry of Health and Prevention, Department of Health – Abu Dhabi, SEHA Ambulatory Healthcare Services, Dubai Health Authority)

(Story updated on February 3, 2021)