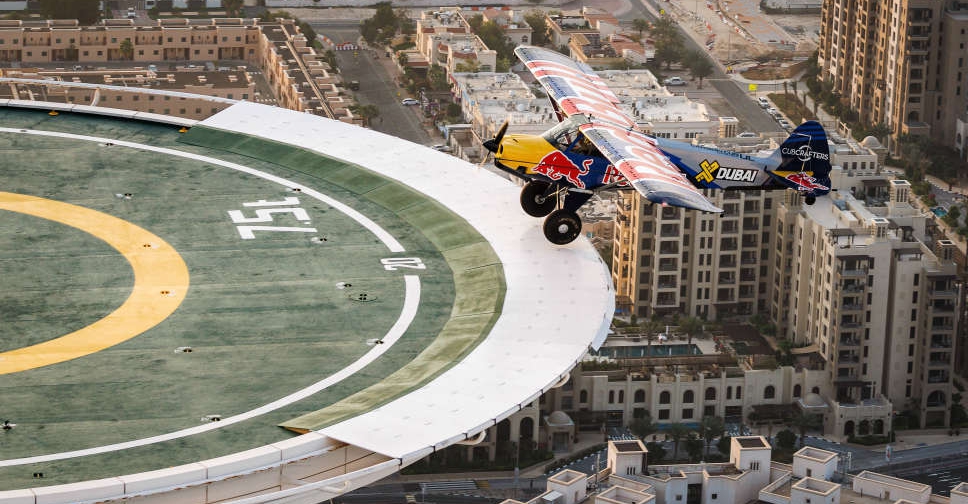 Dubai Media Office
Dubai's iconic Burj Al Arab witnessed another record-breaking achievement on Tuesday when Polish pilot Luke Czepiela accomplished a remarkable "Bullseye Landing" of a plane on the hotel's helipad.
The 39-year-old became the first person in history to land a plane on the sail-inspired hotel's helipad, located at a height of 212 metres above ground level.
Czepiela, a former Red Bull Air Race Challenger Class World Champion, had just 27 metres to bring his Cub Crafters STOL (Carbon Cub / short take-off and landing) to a stop from a landing speed of 43 km/h.
It took him two flyby laps and he managed to land the plane in the third attempt, bringing it to a halt in just 20.76 metres from touchdown.
Czepiela had been preparing for two years for the heart-stopping stunt. He told ARN News that he would love to do more projects in the UAE.
Although the aircraft is designed for abrupt landings in typical conditions, landing a plane on a platform raised 212 metres in the air, next to a 56-storey building, and with no visual cues to guide him made Czepiela's historic landing an extraordinary feat.
"The biggest challenge," said Czepiela, who is an Airbus A320 captain by profession, "was the absence of any external reference points, which are typically present at an airport with hundreds of metres of runway."
#Dubai hosts another record-breaking stunt as Polish pilot Luke Czepiela (@lc_aerobatics) makes history with "Bullseye Landing" of a plane on the iconic Burj Al Arab helipad.@redbull @BurjAlArab pic.twitter.com/CpdAL2QLM8

— Dubai Media Office (@DXBMediaOffice) March 14, 2023
#Dubai hosts another record-breaking stunt as Polish pilot Luke Czepiela makes history with "Bullseye Landing" of a plane on the iconic Burj Al Arab helipad. @Burjalarab pic.twitter.com/cckC66vXUr

— Dubai Media Office (@DXBMediaOffice) March 14, 2023
Czepiela had been preparing for this historic moment since 2021, having completed 650 test landings at ground level in Poland, the US, and Dubai to build his confidence in landing on the helipad without any visual references.
"Normally, when approaching a runway, I can easily see how high above it I am and control the approach path. But today, the ground was 212 metres below, and the helipad disappeared over the nose of the plane, reducing my periphery. As my last few references disappeared, I had to rely on my practice and instincts to bring the plane to a stop before running out of space," said Czepiela.
A history of making history
Dubai's Burj Al Arab has become an iconic location for thrilling and jaw-dropping spectacles over the years, with Czepiela's landing being only the latest in a series of incredible stunts.
In 2005, two of tennis' biggest legends, Roger Federer and Andre Agassi, played a match on a makeshift court on the helipad, suspended high above the city.
The event was organised to promote the Dubai Duty-Free Men's Open, and that iconic meeting in the clouds was ranked in 2022 by ATP as one of the 50 game-changing moments of the past 50 years.
In 2013, former Formula 1 driver David Coulthard put on an incredible show for the world when he drove his Red Bull Racing car onto the helipad and performed doughnuts to celebrate Red Bull Racing winning the Formula One Drivers' and Constructors' championship at the F1 Airtel Indian Grand Prix.
The "Seven Star Spin" did not just leave behind a trail of smoke and noise that echoed through the world, but also put the hotel's helipad on the fast track to becoming the world's most-filmed helipad.
In 2019, professional BMX rider Kriss Kyle added his own chapter to the history of the Burj Al Arab when he rode his bike off the edge of a helicopter and landed on the helipad, stunning onlookers and earning worldwide acclaim for his incredible stunt.
11 out of 10 in difficulty
Throughout his career, Czepiela has achieved numerous feats that have tested his skills as a pilot, including winning the Red Bull Air Race Challenger Class World Championship.
However, landing a plane on the helipad atop the Burj Al Arab required him to push his limits uniquely, making it one of the most extraordinary experiences of his career.
As his flight added another chapter to the storied helipad, Czepiela took a moment to reflect on how this challenge ranked against his previous aviation exploits. "My greatest passion is aerobatics. I have flown under Warsaw's bridges, which was a five out of 10 in difficulty. I also landed on the Sopot Pier – the longest wooden pier in Europe – in 2019, which I would rank as a seven out of 10. But the Burj Al Arab landing was different. It was an 11 out of 10.
"We needed just the right wind speed and direction: too little wind and I wouldn't have been able to stop, while too much would have generated turbulence so intense that my plane would have been tossed around like a leaf," said Czepiela, who also expressed his gratitude for the opportunity to attempt this historic landing, maintaining that it was an honour to become a part of the Burj Al Arab's impressive history.
Overcoming the wind and weight challenge
Czepiela's aviation team included renowned American aviation engineer, fabricator, and aircraft builder Mike Patey, who played a crucial role in modifying the aircraft for the historic landing. Patey made several modifications to the aircraft, including reducing its weight to 400 kg, moving the main fuel tank to the rear of the plane for more aggressive braking, and adding nitrous to enhance power for Czepiela's secondary challenge of taking off from the helipad.
Recalling the lead-up to the landing, Patey emphasised the importance of reducing the weight of the aircraft. "Our biggest challenge was reducing the weight," recalled Patey. "Any mass in motion wants to keep rolling and if we couldn't stop it, Czepiela would have bailed off the other side of the building."
The second challenge of taking off in the limited space the size of a tennis court required Patey to come up with a solution that would afford the plane low weight but a high power output.
"To achieve this, we added nitrous tanks, which provided the required power without adding weight to the aircraft. Nitrous fuel speeds up combustion in the engine, which helps the cylinders accelerate more quickly," explained Patey.
After a break that lasted over an hour, Czepiela took off from the helipad at 8:17 am when the wind speed was 10kt. "We built the right aircraft for this project, but it was crucial to find the right pilot to fly it. There are only a couple of pilots on this planet I would trust to attempt this feat, and Luke was just the person for the job," he added.
Czepiela had wanted to become a pilot since he was a child, even babysitting in the UK to fund his flying lessons.
Grateful to the people and organisations who helped him achieve his dream project, Czepiela expressed his appreciation for the support and trust he received from locals in Dubai, saying "I know Dubai is open to interesting, innovative projects like this – I already have a few ideas!"
To land on the helipad, 27m in diameter, he completed over 650 practice landings before the attempt on top of the 56-story hotel. pic.twitter.com/EpHGIHX2tP

— Dubai Media Office (@DXBMediaOffice) March 14, 2023