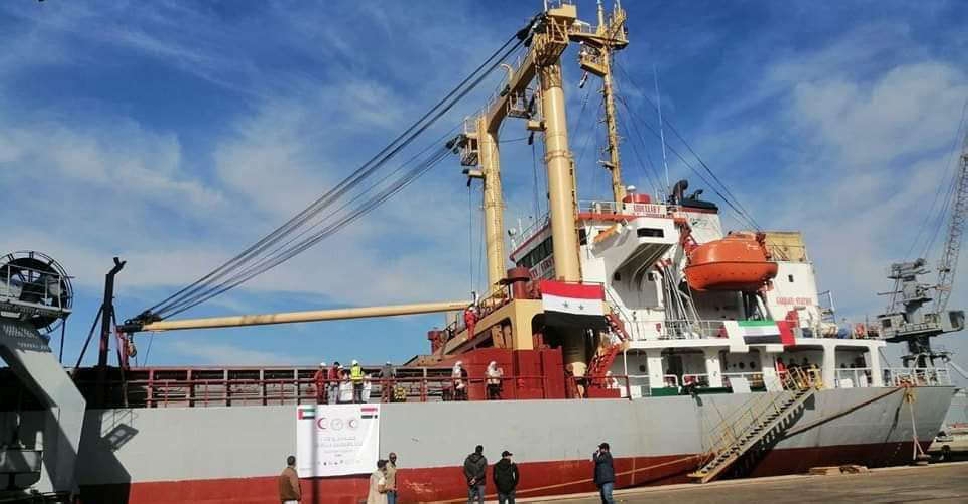 Twitter @STEVENSAHIOUNI1
A UAE ship carrying 37,500 food parcels has arrived at the Port of Latakia in Syria.
The Joint Operations Command of the Ministry of Defence says the thousand tonnes worth of aid is part of Operation 'Gallant Knight 2' and the humanitarian airlift launched by the UAE following the earthquakes in Syria and Turkey.
The ship has transported the largest amount of aid delivered at one time to the port, with supplies to be deployed across quake-hit areas in coordination with the Syrian Arab Red Crescent.
The Emirates Red Crescent (ERC) says relief supplies will continue by air and sea, noting another ship will arrive in Latakia over the next few days.
Tayseer Habib, Chair of the Latakia Governorate Council, thanked the UAE for its pro-active role in supporting Syria in the wake of the earthquake.
He expressed Syria's appreciation for the role of the ERC and its cooperation with the Syrian Arab Red Crescent in accelerating aid delivery operations, as well as the various forms of support it provides.
#UAE aid ship arrives at Latakia Port carrying 1,000 tonnes of food parcels#WamNews https://t.co/1XD7YPOV63 pic.twitter.com/xGs1pT2FUZ

— WAM English (@WAMNEWS_ENG) March 12, 2023