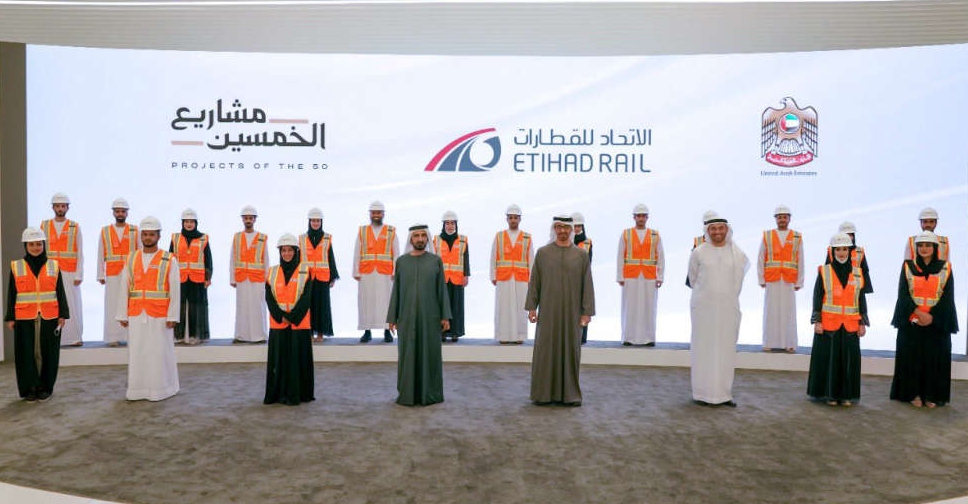 @DXBMediaOffice/ Twitter
The UAE Railway Programme announced on Sunday is the largest integrated system for transporting goods and passengers across the country.
With an investment amounting to AED 50 billion, the programme will provide more than 9,000 jobs by the end of the decade and will reduce carbon emissions by 70 to 80 per cent, supporting the UAE's efforts to preserve the environment and achieve its goal of carbon neutrality.
Launched in the presence of His Highness Sheikh Mohammed bin Rashid Al Maktoum, UAE Vice President and Prime Minister and Ruler of Dubai, and His Highness Sheikh Mohamed bin Zayed Al Nahyan, Crown Prince of Abu Dhabi and Deputy Supreme Commander of the Armed Forces, the Programme includes three key projects; the first being Freight Rail, including Etihad Rail freight services.
The second is Rail Passenger Services that aims to connect 11 cities, with the public able to travel from Abu Dhabi to Dubai in 50 minutes and from Abu Dhabi to Fujairah in 1 hour 40 minutes.
It's expected that 36.5 million people will use the services annually by 2030.
The third project is the Integrated Transportation Service, where an innovation centre will be established to ensure the integration of the smart transport solutions.
A light rail network will be connected to the Rail Passenger System to boost transportation inside UAE cities.
Additionally, smart applications and solutions will also be developed to allow the planning and booking of trips, the integration of logistics operations and solutions, and port and customs services.
The UAE Railway Programme is expected to create economic opportunities in the country estimated at around AED 200 billion.
In the presence of @HHShkMohd and @MohamedBinZayed, the UAE Government announces the launch of the #UAE Railways Programme, the largest integrated system for transporting goods and passengers across the country.https://t.co/3frK4mKX8c pic.twitter.com/99V72eAOhg

— Dubai Media Office (@DXBMediaOffice) December 5, 2021
I was pleased to join my brother Mohammed bin Rashid for a briefing on the National Railway Programme, which is expected to contribute significantly to our nation's ongoing growth and development through the provision of reliable, efficient and sustainable transport solutions. pic.twitter.com/u1LjLgt6X3

— محمد بن زايد (@MohamedBinZayed) December 5, 2021
مشروع قطار الاتحاد يمثل روح الاتحاد لأنه يربط مدن الإمارات وموانىء الإمارات بشريان اقتصادي واحد .. ويرسخ مبادىء الخمسين بأن الأولوية الوطنية هي الاقتصاد والتنمية وبأن دولة الامارات وجهة اقتصادية واحدة. مشروع نفخر بأن ندخل به الخمسين الجديدة في دولة الامارات..والقادم أجمل وأعظم.. pic.twitter.com/FlnEXg9QXP

— HH Sheikh Mohammed (@HHShkMohd) December 5, 2021