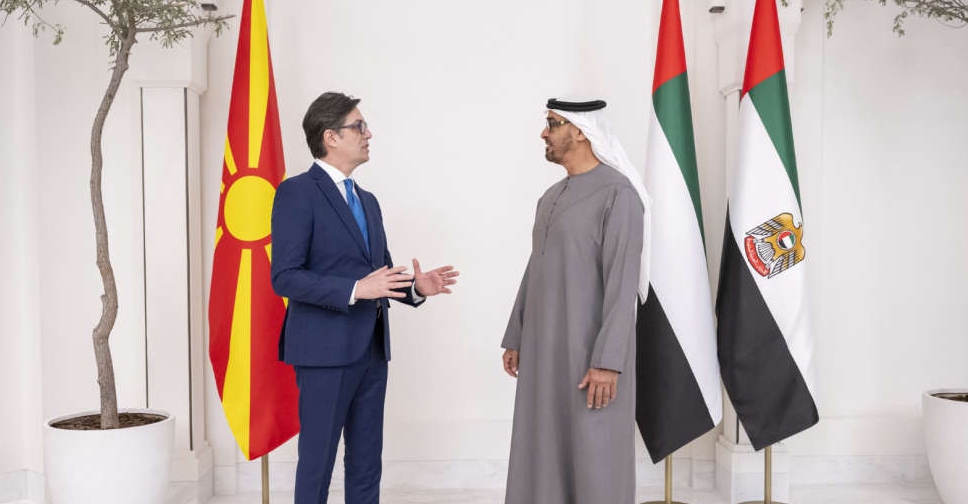 WAM
The UAE's President His Highness Sheikh Mohamed bin Zayed Al Nahyan today held talks with North Macedonia's President Stevo Pendarovski, in Abu Dhabi.
The two leaders discussed opportunities for advancing bilateral collaboration aimed at supporting both countries' sustainable development, including in the areas of trade, investment and economy.
They exchanged views on a number of issues of mutual interest, affirming their support for all efforts and initiatives that seek to achieve more prosperity and stability in the region and across the world.
The meeting also witnessed the announcement of a memorandum of understanding providing visa exemptions to holders of passports issued by the governments of the UAE and North Macedonia.
Present at the meeting were H.H. Sheikh Hamdan bin Mohamed bin Zayed Al Nahyan; Sheikh Mohammed bin Hamad bin Tahnoun Al Nahyan, Advisor for Special Affairs at the Ministry of the Presidential Court; Ali Mohammed Hammad Al Shamsi, Secretary-General of the Supreme Council for National Security; and Suhail bin Mohammed Al Mazrouei, Minister of Energy and Infrastructure.
The delegation accompanying the North Macedonian President included Fatmir Besimi, Minister of Finance; Mile Boshnjakovski, Secretary-General of the Office of the President; Goce Karajanov, Special Foreign Policy Adviser; Blerim Kolalli, Special National Security Adviser; and Abdul Qadir Mimidi, Ambassador of North Macedonia to the UAE.