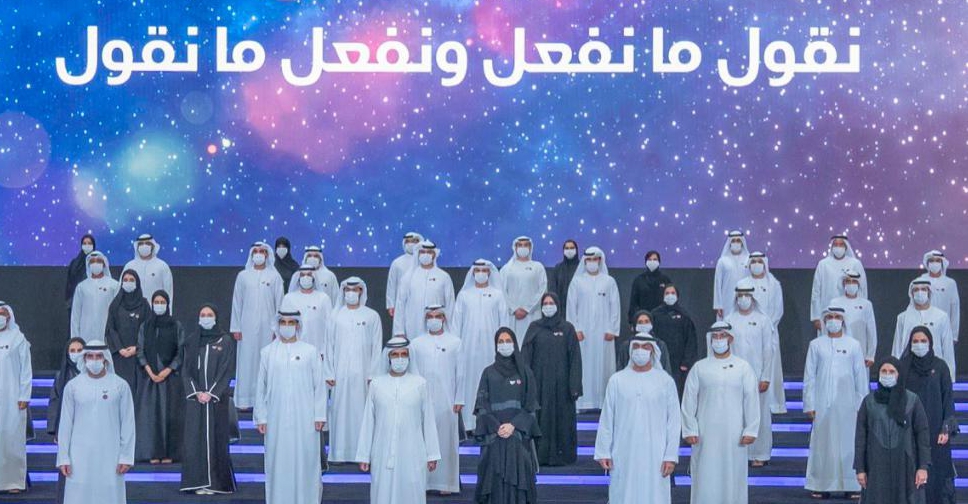 Twitter|@Sheikh Mohammed
The UAE leaders on Friday hosted a special reception for the Emirati team behind the Hope Probe Mars Mission at Qasr Al Watan in Abu Dhabi.
His Highness Sheikh Mohammed Bin Rashid Al Maktoum, Vice President and Prime Minister of the UAE and Ruler of Dubai, and His Highness Sheikh Mohammed Bin Zayed Al Nahyan, Crown Prince of Abu Dhabi and Deputy Supreme Commander of the UAE Armed Forces, applauded the team for their achievements and praised the work of the UAE Space Agency.
In a series of Tweets, Sheikh Mohammed expressed "pride in their achievements".
"With every achievement, there must be celebration... After every duty we carry out, we must rejoice... Today, we are very proud of our people, their achievements and the will that knows nothing is impossible..."
في يوم العيد .. وفي قصر الوطن .. وبحضور أخي محمد بن زايد .. استقبلنا فريق مسبار الأمل احتفاءً واحتفالاً وتقديراً لهم .. أبناء الوطن هم أهم منجزات هذا الوطن .. بهم يعلو .. وعليهم نراهن .. وبمنجزاتهم نفاخر العالم.. pic.twitter.com/Kjhb5qqVXm

— HH Sheikh Mohammed (@HHShkMohd) July 31, 2020
The Hope Probe, which took off at 1:58 am on July 20, will collect information about the Martian atmosphere after it enters the Red Planet's orbit in February.