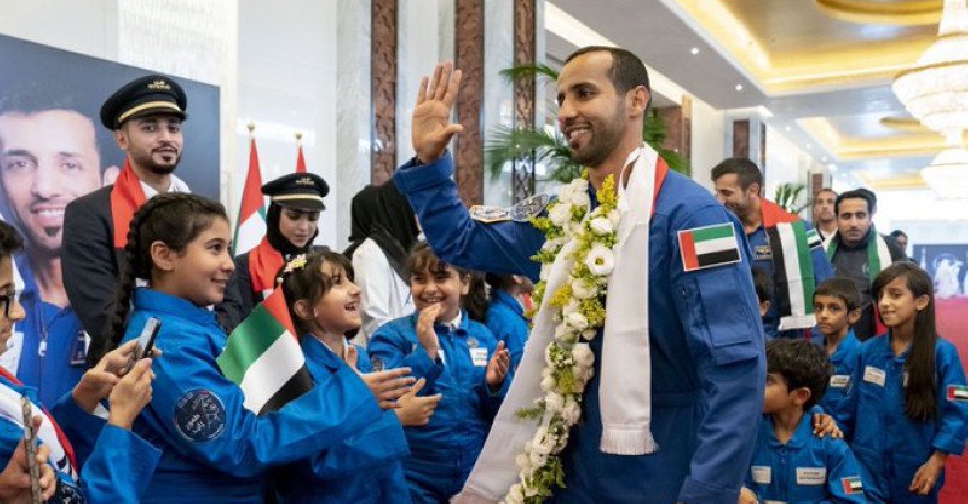 WAM
Hazzaa Al Mansoori says his historic mission to space is a flame of hope for the Arab world.
The first UAE national in space and first Arab on the International Space Station (ISS) arrived in Abu Dhabi on Saturday, where he received a grand welcome.
He was received by Highness Sheikh Mohamed bin Zayed Al Nahyan, Crown Prince of Abu Dhabi and Deputy Supreme Commander of the UAE Armed Forces.
"I saw Zayed's pride in the eyes of Sheikh Mohammed bin Zayed Al Nahyan, and on all your faces."

In an emotional address, #HazzaaAlMansoori, the #FirstEmiratiAstronaut, says he saw a "40 year-old dream coming true" when he returned to the #UAE.#MBRSC @astro_hazzaa pic.twitter.com/HmE7GRqUjy

— MBR Space Centre (@MBRSpaceCentre) October 12, 2019
The 35-year-old said his presence on the ISS was a true reflection of tolerance and that his fellow astronauts are like his brothers and sisters.
Yesterday, today, and tomorrow - the ambitions of our late founding father will continue to drive and inspire generations to come.#MBRSC #MohammedbinZayed #HazzaaAlMansoori #FirstEmiratiAstronaut #UAE pic.twitter.com/mD6bq2KH4U

— MBR Space Centre (@MBRSpaceCentre) October 12, 2019