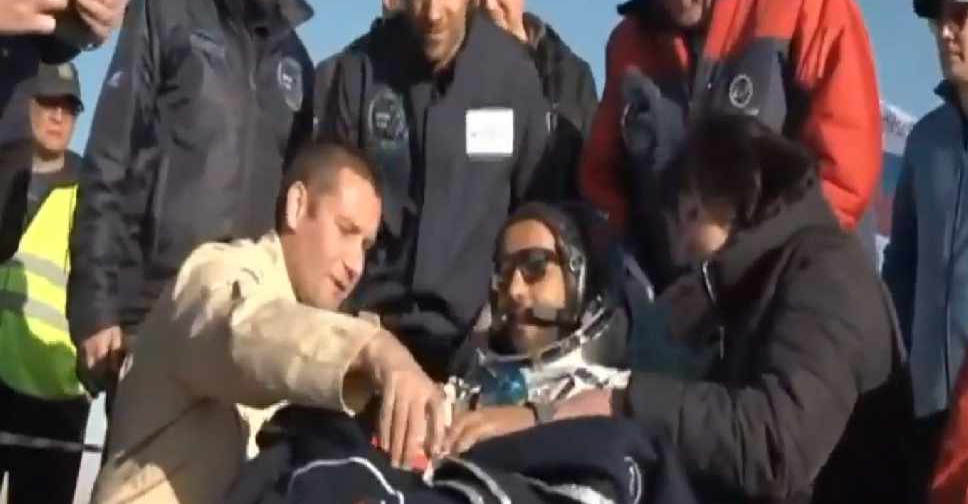 NASA/Screengrab
The UAE's first astronaut is back on earth after his historic eight-day space mission.
Hazzaa Al Mansoori landed safely in Kazakhstan moments ago after leaving the International Space Station (ISS) earlier this morning.
الآن.. خروج هزاع المنصوري #أول_رائد_فضاء_إماراتي من المركبة سويوز MS-12 #وام pic.twitter.com/0P2GkjzXiG

— وكالة أنباء الإمارات (@wamnews) October 3, 2019
Astronaut Hazzaa AlMansoori, wrapped in the UAE Flag, being carried to the medical tent by Salem AlMarri, Head of the UAE Astronaut Programme at MBRSC, and Saeed Karmostaji, Manager of the astronauts office at the #MBRSC.@astro_hazzaa#FirstEmiratiAstronaut #HazzaaAlMansoori pic.twitter.com/CI0QfzHKev

— MBR Space Centre (@MBRSpaceCentre) October 3, 2019
He will now be taken to Moscow for a week of post-mission health checks before returning to the UAE.
Before undocking, Hazzaa recorded a message thanking all those who worked on UAE's first space mission.
Salem Al Marri, Assistant Director-General for Scientific and Technical Affairs at the Mohammed Bin Rashid Space Centre, exclusively told ARN News what the UAE is looking to learn from Hazzaa's mission.