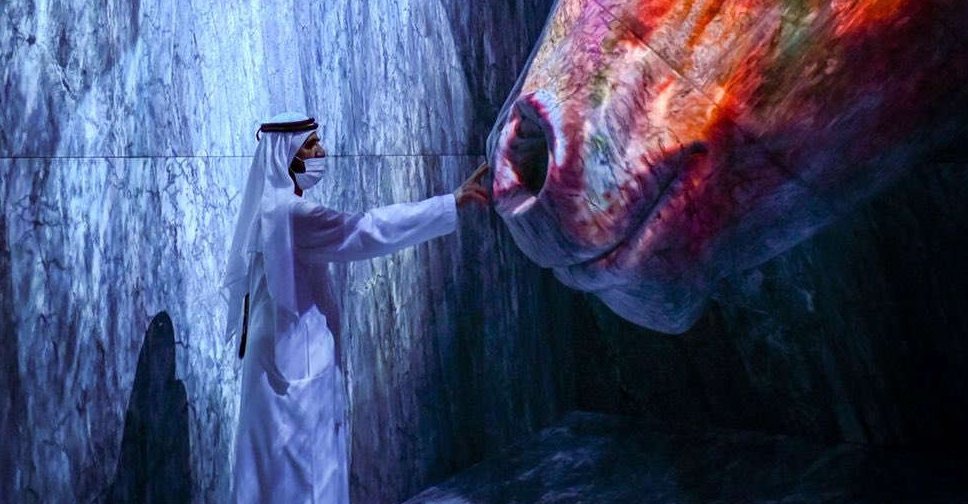 Twitter / @HHShkMohd
His Highness Sheikh Mohammed bin Rashid Al Maktoum, Vice President and Prime Minister of the UAE and Ruler of Dubai, took to Twitter to thank the creators of the Vision pavilion after a tour of the space on Sunday.
The pavilion is based on Sheikh Mohammed's book called My Story, which narrates his life through 50 stories.
Visitors of the pavilion are taken on an emotional journey that offers glimpses into the influences that transformed Sheikh Mohammed into an impactful, visionary leader.
His Highness' childhood and passions and the experiences that influenced his bold vision for Dubai and the UAE are highlighted through a multisensory experience.
The ruler's passion for horses is celebrated with the bust of a large horse that adorns one part of the pavilion.
تجولت اليوم في جناح الرؤية في إكسبو دبي ٢٠٢٠ … تقوم فكرة الجناح على كتاب "قصتي" .. الكتاب الذي وضعت فيه خمسين قصة ومحطة من حياتي وسيرتي .. قصص الطفولة .. وقصة دبي .. وقصتي مع الخيل رأيتها اليوم بشكل ابداعي في جناح الرؤية .. شكراً للمبدعين.. pic.twitter.com/EpmWmkJtGj

— HH Sheikh Mohammed (@HHShkMohd) October 10, 2021
Pavilion Visits
After a visit to the Vision Pavilion, the ruler toured the Sustainability district of EXPO 2020 Dubai.
Sheikh Mohammed visited the Seychelles Pavilion, during which he was briefed about the country's conservation efforts, its 'Blue Economy' initiatives and other projects being implemented to secure the country's present and future.
The Seychelles Pavilion is designed to highlight the importance of treasuring nature.
The ruler also toured the Montenegro Pavilion, which offers visitors an opportunity to relive the country's rich history and enjoy its world-famous hospitality.
كما زرت اليوم جناحي سيشل والجبل الأسود في إكسبو دبي ٢٠٢٠ .. قصص الشعوب يرويها إكسبو بطريقة إبداعية .. "وجعلناكم شعوباً وقبائل لتعارفوا" .. جمال إكسبو في تحقيقه هذا التعارف الاستثنائي بين الشعوب .. pic.twitter.com/h8bnz5U1Fz

— HH Sheikh Mohammed (@HHShkMohd) October 10, 2021
During the tour, His Highness expressed his appreciation for the efforts being undertaken across the globe to preserve and protect the environment and save the planet.