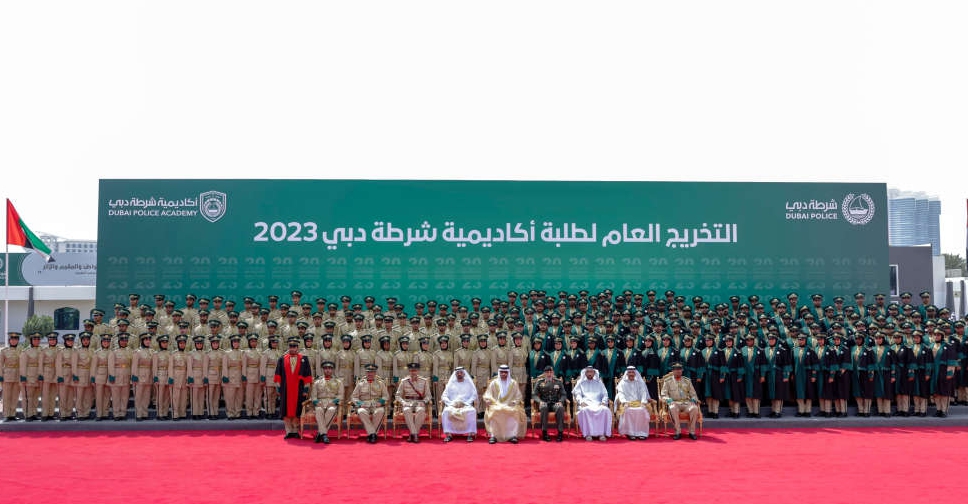 @DXBMediaOffice/ Twitter
His Highness Sheikh Hamdan bin Mohammed bin Rashid Al Maktoum, Crown Prince of Dubai, today attended the graduation ceremony of 477 cadets and university students from the Dubai Police Academy.
During the event, His Highness watched a military parade and performances featuring the participation of 958 former graduates.
Sheikh Hamdan, along with Lieutenant General Abdullah Khalifa Al Marri, Commander-in-Chief of Dubai Police honoured the outstanding students.
The graduates included 477 male and female personnel specialising in various fields of security and law.
On the sidelines of the ceremony, Sheikh Hamdan also met with two female police officers, Shamma Al-Buflasa and Lieutenant Dana Al-Souri, who spoke about their experience with the New York Police Academy's officer training programme.
Today, I attended the graduation ceremony of a new cohort of Dubai Police Academy cadets. Congratulations to the graduates and their families. We are proud of the excellence they have demonstrated, and wish them the best as they begin their journey of service to the nation. pic.twitter.com/sUxHjbKJUo

— Hamdan bin Mohammed (@HamdanMohammed) March 8, 2023
In his speech, Lt. Gen. Al Marri highlighted the vital role of the Dubai Police in empowering women and youth and providing the country with qualified cadres who contribute to supporting the state's efforts in achieving sustainable development.
The graduation ceremony was attended by His Highness Sheikh Ahmed bin Saeed Al Maktoum, Chairman of the Dubai Civil Aviation Authority and Chairman and Chief Executive of Emirates Airline and Group; His Highness Sheikh Hasher bin Maktoum bin Juma Al Maktoum, Chairman of Dubai Media Incorporated; Staff Major General Pilot Sheikh Ahmed bin Tahnoun bin Mohammed Al Nahyan, Deputy Chief of Staff of the UAE Armed Forces, along with a number senior police officials, diplomatic corps members, delegates from the World Police Summit, and families of the graduates.
Brigadier Dr. Mohammed Butti Al Shamsi, Director of the Dubai Police Academy, expressed his happiness and pride on the occasion and wished the new officers all the best in serving their nation.
He highlighted the key role of the Academy in preparing highly-qualified law enforcement personnel equipped with scientific knowledge and skills.
Al Shamsi also highlighted how the Dubai Police Academy was officially recognised as one of the Best Workplaces in the UAE for the third year in a row by the Great Place to Work, a global research, training and consultancy firm.