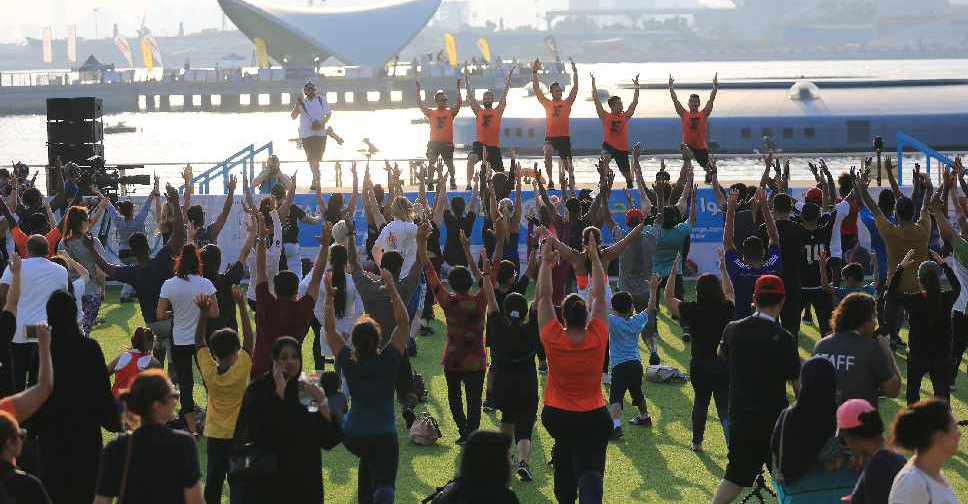 Supplied
Getting active has never been so easy or so much fun as Dubai Fitness Challenge (DFC) promises to transform the city into a gym with activities for all ages and abilities.
We can look forward to two large-scale fitness villages, 10 community hubs, as well as more than 40 events and over 5,000 classes across the emirate.
The action-packed calendar also features flagship programmes of fitness gurus and iconic brands.
Notable amongst these is an attempt to set a new Guinness World Record for the largest high-intensity interval training (HIIT) class on October 26 with "The Body Coach", best-selling author and Instagram fitness star Joe Wicks.
Once again, residents are being encouraged to commit to 30 minutes of daily physical activity for 30 days.
Participants can set personal goals and track their progress on the free Dubai Fitness App, and share their achievements on social media using the hashtag #Dubai30x30.
The third edition of DFC runs from October 18 to November 16.
Highlights of Dubai Fitness Challenge this year:
Kite Beach Fitness Village will offer a variety of outdoor activities across multiple zones.
With opening hours from 7am to 9pm from Sunday to Wednesday and 7am to 11pm from Thursday to Saturday, the zones include beachside basketball, boxing and martial arts, yoga and meditation, and a dedicated kids' play area, in addition to a water sports centre.
The Village will also include a specially designed Tough Mudder 'Get Tougher' training obstacle course, as well as a Mini Mudder course for kids.

The Festival City Mall Fitness Village will be open to visitors from 12pm to 10pm from Sunday to Wednesday and 12pm to 12am from Thursday to Saturday.
The Festival Square of the mall's ground floor will be transformed into a fitness zone with a mix of skill and fitness-based activities and challenges for people of all ages.
The Dubai Festival City promenade will turn into a large workout space with afternoon programming, including a brand-new 'IMAGINE' fitness-themed show playing twice every evening.
Participants can also rent a bike upon free registration and set off on the 'ultimate mile' along the promenade.

The Ten Community Hubs will have activities at various locations including Hamdan Sports Complex, Zabeel Ladies Club, The Pointe on Palm Jumeirah, The Sustainable City, JLT Park and Bluewaters – with more to be announced soon.
Retailers across the city are jumping on board this year, with deals and offers ranging from sports equipment and apparel to customized healthy meal plans for participants.
The health and wellness industry will also be actively involved this year with free check-ups, information sessions, classes and much more throughout the 30 days.