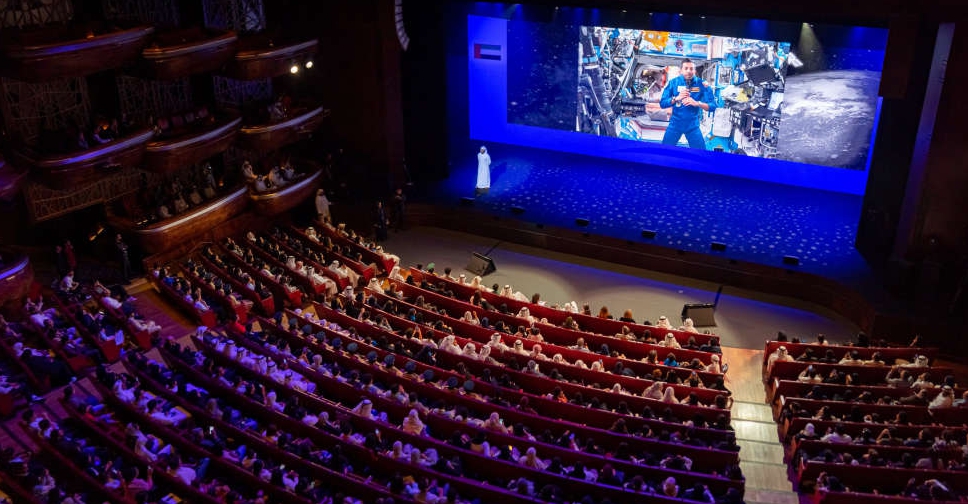 Twitter/mbrspacecentre
From life in space to the challenges of zero gravity, Emirati astronaut Sultan Al Neyadi answered a host of questions during his first live interaction with the public.
Set up at the Dubai Opera, the event featured an engaging 20-minute discussion between Al Neyadi and 2,000 space enthusiasts.
He spoke about his schedule on the ISS and how oxygen is produced on the space station.
Talking about how astronauts keep track of time in space, Al Neyadi said they "use GMT time because it's difficult to track time depending on the sun, as we see 16 sunrises and sunsets every day. For us time flies really fast here".
During the call, he also demonstrated how he is getting familiar with floating in space and how he uses velcro to keep things in their place.
Al Neyadi gave an insight into his diet and how he eats candies and drinks water from a packet.
The Mohammed Bin Rashid Space Centre's 'A Call with Space' is the first in a series of nine live public interactions, with the next call scheduled for April 12.
The Mohammed Bin Rashid Space Centre's 'A Call with Space' event held at the #Dubai Opera today brought together around 2,000 eager participants to interact with Emirati astronaut Sultan AlNeyadi, who spoke live from the International Space Station (ISS).https://t.co/W6vxy6JNA7 pic.twitter.com/OkH1ZJ7jBz

— Dubai Media Office (@DXBMediaOffice) March 21, 2023