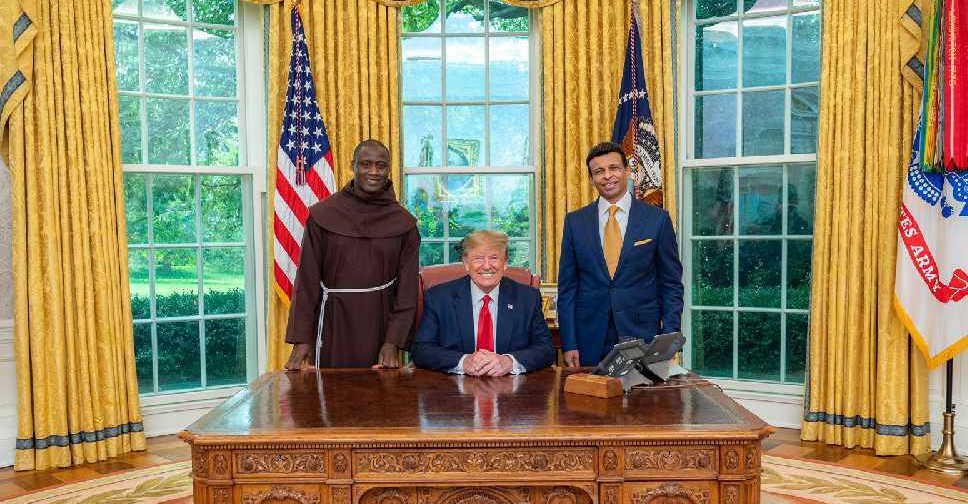 Peter Tabichi with Donald Trump and Sunny Varkey (Supplied)
The winner of Dubai's Global Teacher Prize has met with US President Donald Trump at the White House ahead of his special address at the UN General Assembly.
Peter Tabichi, from Kenya, secured the $1 million (AED 3.67 million) award at a ceremony in Dubai earlier this year.
Since then, he's been invited to speak at global events, with the United States being the latest stop.
The 36-year-old science teacher has been given the opportunity to open the US Congress with a prayer, while he's also scheduled to meet tech giants in Silicon Valley, including Google and Facebook.
During his tour, Tabichi will call on politicians, business leaders and philanthropists to help Africa's youth tackle a variety of challenges ranging from climate change and drought to food insecurity and disease prevention.
Tabichi teaches at Keriko Mixed Day Secondary School in Pwani Village, situated in a remote, semi-arid part of Kenya's Rift Valley.
He gives 80 per cent of his salary to the poor in his community and champions the cause of 75 million children whose education is disrupted by conflict and natural disaster.
Sunny Varkey, Founder of the Varkey Foundation, said: "Teachers hold the future of our world in their hands through the young minds they nurture. That's why, through the Global Teacher Prize, we strive every day to shine a spotlight on teachers and their enormous power to transform lives".