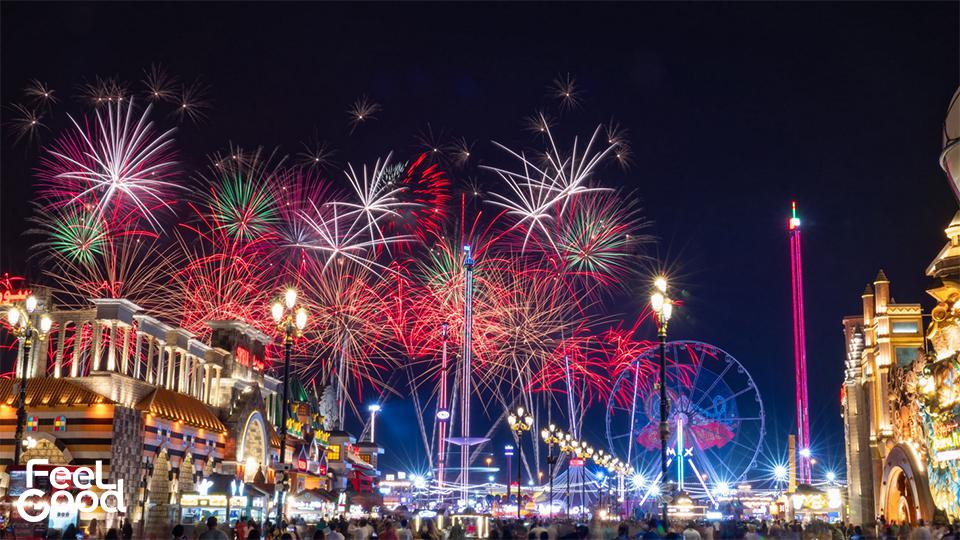 With the 49th UAE National Day right around the corner, it's no secret that the best way to be immersed into the celebrations is by watching fireworks displays all over the country! Take Dubai for example - to mark the 49th UAE National Day, several locations around town are preparing not just fireworks displays but also light and fountain shows.
To ensure the safety of everyone, social distancing measures will be in place to prevent the spread of Covid.
Below are some spots around the country where you can expect fireworks and other shows celebrating the UAE. We'll be updating this space when new info comes up!
Dubai Festival City Mall
In addition to their 'Imagine' water and laser show, Festival City Mall will be hosting a fireworks display to mark the 49th UAE National Day. There will be two shows, one at 9pm and another at 11pm. Due to Covid, visitors must book a table at participating restaurants to view the show. Outdoor access to Festival Bay is temporarily closed.
Global Village
From December 1-5, Dubai's Global Village will have National Day fireworks every evening at 9pm. A special classical performance celebrating the history of the UAE is also expected. Apart from that, visitors can also view the Art of Wonder exhibition with installations designed to celebrate the unity of the seven emirates.
Palm Fountain
The world's largest fountain will come alive for the 49th UAE National Day. Expect a stunning show featuring beloved tunes and tantalizing lights. On December 1, the Pointe is hosting a special National Day show by Emirati composer Ihab Darwish. There will also be fireworks at 9pm!