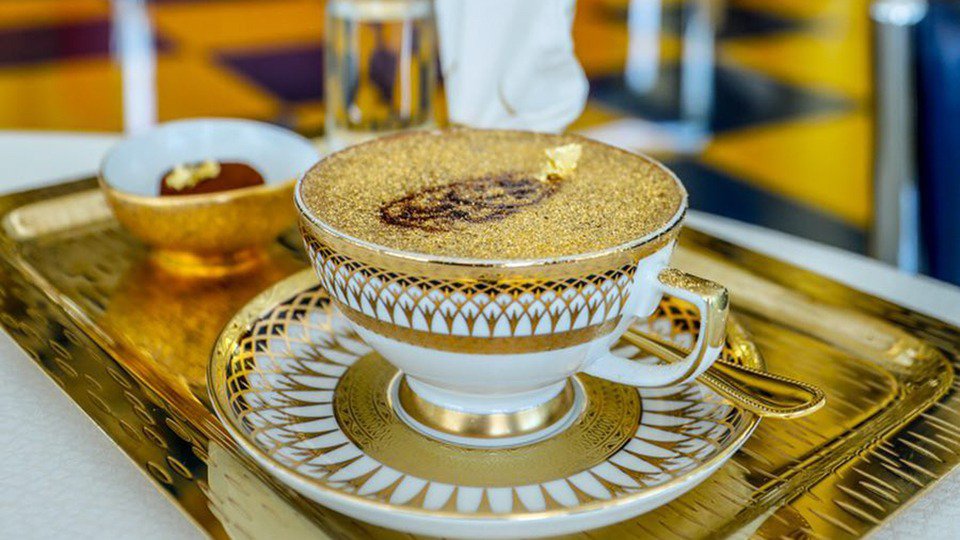 Many of us have probably heard of Dubai being referred to as the 'City of Gold'. For good reason really; a quick tour to the old part of town and you're greeted with rows upon rows of jewellers stores and gold traders. Towards the side of new Dubai, it's likely some mall or supermarket is giving away gold as part of a raffle. But the gold mania doesn't stop there, there's also gold dishes around town.
Say what?
You heard that right. The myths are true - gold food is indeed being served in some spots around town. Here are just three examples of dishes you can get in Dubai with that extra glittery touch.
A cup of cappuccino
Located inside one of Dubai's most iconic landmarks - the Burj Al Arab is Sahn Eddar. This cafe serves up a 24k gold cappuccino. A cut above your regular cup of coffee, this cappuccino has gold blended into the foam and then heaped on top for extra measure.
A samosa
A staple of Dubai's street food scene, the samosa is an affordable, filling and hearty pastry. You can also get it covered in 24k gold at a spot in JLT. You can get the shimmering snack with either a savoury or sweet filling.
An entire duck
A new addition to Dubai's visually astounding dining scene, Dubai restaurant Hakkasan will be serving up gold-coated Peking ducks for one week only. This fancy bird is covered entirely in 22k gold. Just look at it!